Sandhya is a respected and inspiring speaker, preacher and workshop leader. Her particular areas of wisdom for speaking are violence prevention, diversity/cultural competency/racial justice, models of healthy communication for organizations and congregations, congregational transformation, community outreach, and addressing systemic justice issues (including housing and economic justice).
You can contact her about speaking and workshop engagements directly at sandhya.r.jha@gmail.com
She is also a pro-reconciliation/anti-racism trainer with the Christian Church (Disciples of Christ). For more information about Disciples' anti-racism trainings (which are generally done with two trainers), please contact RMAdmin@disciples.org, or read about the work at Reconciliation Ministries' page.
Endorsements of Sandhya's public speaking and workshop leadership
Sandhya Rani Jha was the resource leader for the 2013 Michigan Disciples Women's spring retreat.  She is resourceful, informative, compassionate and challenging.  She dealt with issues of differences, tolerance and respect in a gentle and inspiring way.   She helped us to tell our stories and listen to the stories of our sisters.
When we invited Sandhya we knew we would not be disappointed as many had experienced her at both the Portland General Assembly and the Mix in '06 (the joint women's assembly of the United Church of Christ and the Disciples of Christ).  I highly commend and endorse Sandhya as a resource person or event speaker.
Brenda Etheridge, Michigan Disciples of Christ Women's Ministries Coordinator, Pastor of Unity Christian Church of Swartz Creek, MI and former president of the International Christian Women's Fellowship (2002-2006)
Rev. Sandhya Jha is an exceptional preacher, teacher, plenary and workshop leader.  I have used her as a diversity trainer in two very different congregations, in Berkeley CA and Dallas, TX. SHe embodies what she teaches, drawing on her experience and as a pastor and as a social change activist. Cathedral of Hope UCC is the largest LGBTQ church in the world, and she brought a message in meetings and in worship that helped us connect GLBT oppression to other kinds of oppression in an insightful and patient manner.  She moved the expression "Anti-oppression, Anti-Racism, Pro-Reconciliation" from an idea to a reality. She broached difficult topics with us, like racism, personal and systemic, and changed the trajectory of our church at a critical transition time so that awareness of need for this work in the congregation and in the community became apparent and necessary.  It's not easy to talk about racism in any context, liberal or conservative, and still get a heartfelt standing ovation at the end.  Invite her for your teach-ins, conferences, revivals, church services or any other event, and you will be changed — and you will want her to return for more.
The Reverend Jim Mitulski, Interim Senior Pastor, Cathedral of Hope United Church of Christ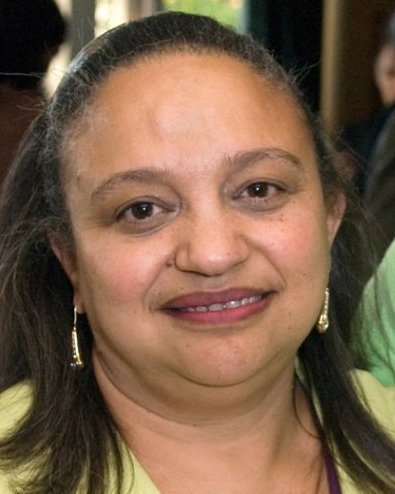 It is to our divine betterment that we have Rev. Jha working in our community. With righteous energy and through her powerful voice she sparks the social justice activists in all of us.
Rev. Jha cares deeply for people, especially those who have been trodden upon by a system that has forgotten them. We, at St. Mary's Center were privileged to have her speak at our International Day to Eradicate Poverty (October 2014)  where she moved people to use their voice to create positive change. She vehemently shared that it is our right and our responsibility to do so.
She brings heartfelt messages that are grounded in basic human principals that every Life is Sacred and Every Mind Matters. She can define a societal problem in simple terms but present inspired solutions that we can feel comfortable participating in.
You can see her soften with empathy when she speaks of homeless and very poor seniors making her beloved within the service providers and their constituency.  Her guidance and moving testimony is in high demand in the Bay Area.
Rev. Jha is an enlightened social justice activist and spiritual leader. She understands the deep complicated challenges that exist in the inner city. With many by her side, she works hard to eradicate the effects of poverty and through her message we are stirred to imagine that we, the beloved community have the power to overcome and thrive.
I absolutely recommend Rev. Jha as a motivational speaker in multiple venues. You will not be disappointed; instead you will be awed, loved and inspired.
Janny Castillo, Hope and Justice Coordinator, St. Mary's Center; Commissioner, Oakland Housing Authority; Co-Founder, boonachepresents
Sandhya Jha is a gifted scholar of Liberation theology, and her authentic concern for the poor and marginalized in various social and economic contexts is truly significant in many respects. I greatly value her contributions and activism among the South Asian diaspora communities on social justice issues, particularly as it relates to cross-cultural communication, racial, gender, and sexual rights. Her work embodies the courageous vision to build just and sustainable communities in her beloved city of Oakland through her transformative work with the Peace Center and EBHO. More recently, her ministry extended to the Monterey Bay as a guest speaker in my class on Ethical Issues at the California State University. Her words inspired many young student-activists to understand the deeper realities, challenges, and opportunities in doing theology at the margins. Sandhya shines new light and brings wisdom in our mutual commitment to justice and peacemaking in the Bay Area and beyond.
Dr. Ajit K. Abraham, Lecturer, Humanities & Communication| Global Studies, CSU- Monterey Bay